I recently had the opportunity to visit Boulder, CO (Wiki, Map). The reason for my visit was to visit the Pivotal Labs office and spend a day pairing with them.
One of the cool/interesting features of the Pivotal office is that the company provides breakfast in the morning. I walked into the office to find two quiches, pears, strawberries, Orange Juice, Milk, Coffee and several choices of breakfast cereal.
The day started out with a standup. We then split off into pairs and worked on our respective projects. It was interesting to be thrown into the fire and within a half hour I was working on a large, well known website, implementing features that are now live on that site.
We split for lunch around 11:30. After lunch we switched pairs and I worked on a different portion of the code. Pivotal has a strong TDD/BDD approach to coding. We wrote tests that failed, then wrote the code to make them pass. After all the tests passed, we refactored. This is what Rails development is supposed to be.
The afternoon/evening was rounded out with a team retrospective meeting. After the meeting, the office all joined in for a game of StarCraft II.
I thought my interview/pairing day went really well, and I'm happy to say that I'm moving to Boulder to start working for Pivotal Labs March 14th.
Here's some pics: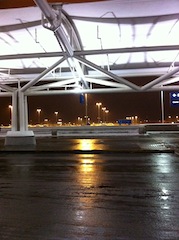 The Snow was falling as I arrived at Denver International Airport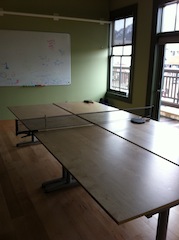 The Pivotal office has a full size, full time ping-pong table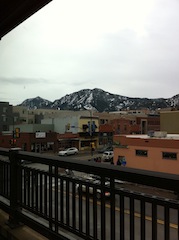 This is the view from the office.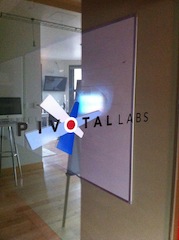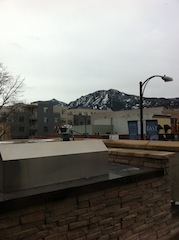 The spotting scope is from a Russian Destroyer. One of the Pivots said during the summer you can see mountain climbers climbing the distant mountains. The large grill is for hosting summer parties.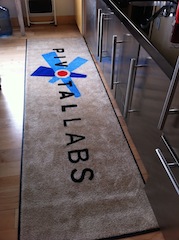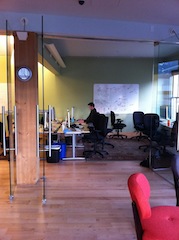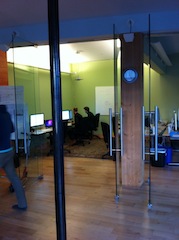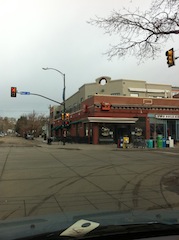 This is from across the street. Pivotal Labs is on the second floor. Ted's is an easy lunch.